KIS Group is renowned as world leading sustainable technologies provider. THE BEST CREATE THE FIRST. We have created many "FIRST OF ITS KIND IN THE WORLD" sustainable Green technologies / solutions to create Wealth out of Waste (Both solid and liquid wastes). Received several AWARDS globally. We are providing sustainable clean technologies for Biogas, Water & Effluent Treatment Plants. Agricultural & Industrial waste water is converted into profitable and green energy resource
Our Biogas Projects involve our proven technologies ZPHB™ (Zero Pollution Higher Biogas), Higher Biogas™ & Biopower™. We are market leading Biogas technology provider in South East Asia. We have done several Biogas power plants of various capacities ranging from 1 MW up to 7.5 MW. Our 7.5 MW Biogas power plant is largest Biogas power plant in South East Asia.
Our WTP (Water Treatment Plant) projects involve RO, UF, DM, UV, Ozonation, Chlorination & combination of these. Under STP (Sewage Treatment Plant) & ETP (Effluent Treatment Plant) we have Zero Discharge™, Zero Pond™, MBBR, MBR, ASP, SBR Technologies. These contribute in converting waste to wealth and reduction in Green House Gas emissions, thus contributing towards reduction of Carbon Foot prints for our clients and also in preserving our Earth at its best. We have developed ZCT™ which involve zero chemical requirements for waste water treatment, using ECR & OH principles. We are also providing complete turnkey projects on BOT and BOOT basis.
We are the only technology provider in South East Asia providing complete solutions with CDM (Clean Development Mechanism) for Palm Oil Mill Effluents & other Industrial waste water.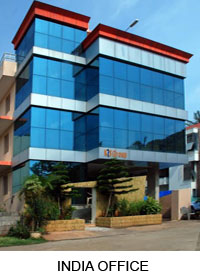 We have global footprints with our own offices in Singapore, India, Malaysia, Indonesia, UAE, Brazil & Colombia. We have provided Solutions/ Technologies to our prestigious clients like Unilever, Sinarmas, Cargill, SIPEF, UPL (United Phosphorous), Astra, Citra Borneo Indah & many others across world for water and waste water treatment.
Vision
To became the best company in the world in providing sustainable clean technologies for Water Treatment, Waste Water Treatment, ZLD, ZCTTM and complete solutions for Biogas generation & utilization.
Mission
"To achieve our objectives with full dedication in an environment of fairness, honesty, and courtesy towards our clients, employees, vendors and society at large."
Client Value
:
To surpass client expectation
Leadership
:
To set standards in our business & transactions and be an exemplar for the industry & ourselves
Integrity
:
To be ethical, sincere & open in all our business transactions
Fairness
:
To be objective & transaction oriented & thereby earn trust & respect
Excellence
:
Always strive relentlessly, constantly improve ourselves, our teams,
our technologies, services & products to become the best Green Technology provider. We work together with diverse perspective to make a difference in areas of energy, water conservation and to reduce pollution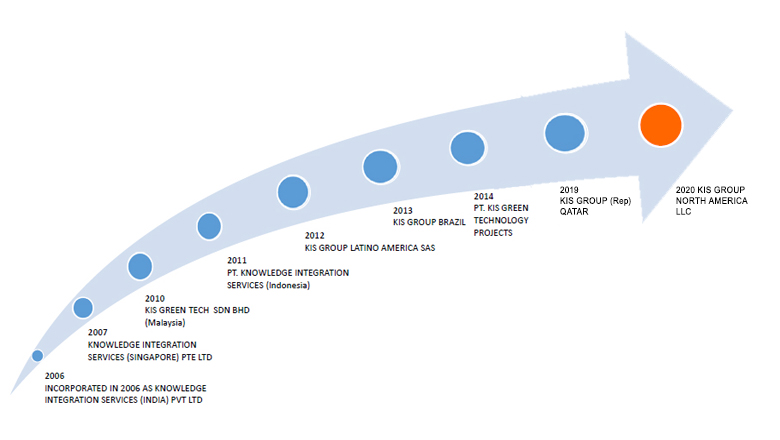 THE COMPANY WAS INCORPORATED IN 2006 AS KNOWLEDGE INTEGRATION SEVICES (INDIA) PVT LTD
IN 2007 - KNOWLEDGE INTEGRATION SERVICES (SINGAPORE) PTE LTD
IN 2010 - KIS GREEN TECH SDN BHD (MALAYSIA)
IN 2011 - PT. KNOWLEDGE INTEGRATION SERVICES (INDONESIA)
IN 2012 - KIS GROUP LATINO AMERICA SAS
IN 2013 - KIS GROUP BRAZIL
IN 2014 - PT. KIS GREEN TECHNOLOGY PROJECTS
IN 2016 - KIS GREEN TECH (FZE) DUBAI
A leader in EPC have been providing state of art technology for our clients for the past decade assimilating new technologies and providing the best, most cost effective and integrated turnkey solutions. Our services aim at providing complete range of engineering services in house for project execution, commissioning & maintenance of the projects. Our offerings include the technologies, system integration & CDM(Clean Development Mechanism) thus providing customers with one window solution.
We wish to extend our sincere and humble thanks to all our valued clients, who made us to grow from PIONEER to Market leaders in Sustainable technologies.
KIS Group is dedicated to "Make Customer Successful" with its latest & best Green Technologies which are "Affordable & Profitable".